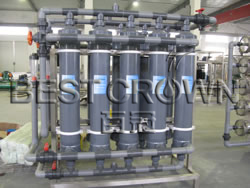 Ultrafiltration Water Filter
The ultrafiltration water filter is water purification equipment. It is mainly used to remove bacteria, rust, colloidal matter, and other impurities from tap water, and remain trace elements, mineral substances and other substances which are good for humans'health.


Features of Ultrafiltration Water Filter
1. Our ultrafiltration water filter is installed with ultrafiltration membrane whose micropore is less than 0.01mm.
2. It adopts hollow-fiber ultrafiltration technology and three-class pretreatment process to filter water.
3. The highly condensed water will be drained away from the drain valve.
4. The hollow-fiber membrane is not easily blocked as a result of high output.
5. The cartridges have long service life and can be cleaned repeatedly. It is easy to replace.
6. The ultrafiltration water filter uses tap water pressure to provide power, so it is energy-saving.

Model Machine
The model machine is an ultrafiltration water filter. Its output is 4M3 per hour.
Technical Parameters
| | |
| --- | --- |
| Item \ Model | HF-4 |
| Membrance Materials | Modified Polypropylene (PP) |
| Inner Diameter and Outer Diameter of Fiber | 0.4mm/0.5mm |
| Cut-off Molecular Weight | 10 Thousand Dalton |
| Module Size | Ø160X1330mm |
| Effective Area of Membrance | 48.5m2 |
| Pure Water Flux (L/H,0.12Mpa,25°C) | 4880 |
| Output (L/H) | 27-90L/ m2.H |
| Body Materials | UPVC |
| Edge Sealing Materials | Epoxy Resin |
| Working Pressure | 0.1-0.3MPa |
| Max. Feed Water Pressure | 0.5MPa |
| Max. Differential Pressure of Membrane | 0.2MPa |
| PH Valve of Raw Water | 1-14 |
| Operating Temperature | 5℃-45℃ |
| Turbidity of Purified Water | < 0.1NTU |
| Silt Density Index (SDI) | < 1 |
| Suspended Matter, Fine Grain(>0.2µm) | 100% of them are removed. |
| Microorganisms, Pathogene | 99.99% of them are removed. |
Best Crown Packing Machinery Co., Ltd. is a primary ultrafiltration water filter manufacturer based in China. Found in 1954, we constantly strive for providing a variety of water filling machine, juice filling machine, tea filling machine, etc, to our global customers.
Through years of efforts, our company has successfully passed through ISO9001: 2000 certification. All our products have attained CE certificates.
Due to superior quality and reasonable prices, our products are widely exported to the United States, Japan, Canada, Russia, Southeast Asia, Middle East, Africa, etc.
Please do contact Best Crown Packing Machinery Co., Ltd., should you have any inquiries about any of our products. We are competent and are your one stop shopping centre for all your machinery needs.
Drink Machine, Liquid Filling Machine
Reverse Osmosis The reverse osmosis is water filtration equipment. It is the main part of purified water system. It can remove inorganic salt, organic matter and microorganism ...