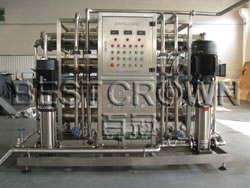 Reverse Osmosis
The reverse osmosis is water filtration equipment. It is the main part of purified water system. It can remove inorganic salt, organic matter and microorganism. 

Features of Reverse Osmosis
1. Our reverse osmosis has properties of non-phase change, high salt rejection rate, small volume, high automation and environmental protection.


2. The membrane of reverse osmosis adopts advanced hydranautics rolled polyamide composite membrane. The salt rejection rate of single membrane is above 98%.
3. The RO membrane can effectively solve the problem of precipitation, thus extend the service life.
4. The automatic flusher and drug washing device are installed in reverse osmosis to prevent the pollution of RO membrane.
5. The inflow of raw water is 4m3/h and operating pressure is in the range of 0.8 to 1.5Mpa. The output of purified water is 3m3/h, and the displacement of highly condensed raw water is 1m3/h.
6. The conductivity meter is installed to monitor and display the water quality.
Working Principles of Reverse Osmosis
1. The semipermeable membrane is designed to let water pass through and not allow salt to pass through it.
2. When differential pressure of brine and fresh water is higher than osmotic pressure, the purified water will flow to fresh water compartment.
3. The reverse osmosis can remove bacteria, inorganic ion, virus, colloidal matter, and organic matters from water, and produce high quality purified water.
4. The reverse osmosis should be installed with six 4" double-core filter cartridges, twelve ESPA2-4040 composite reverse osmosis membranes produced by hydranautics from America.

Technical Parameters
| | | | | | |
| --- | --- | --- | --- | --- | --- |
| Model | Machine Frame | Quantity of Filter Cartridges | Quantity of Reverse Osmosis Membrane | Output | Dimension (mm) |
| RO-3 | Stainless steel 304 | 6 | 12 | 3T/H | 2600×1200×1800mm |
Best Crown Packing Machinery Co., Ltd. is a professional reverse osmosis manufacturer based in China. We mainly produce various water production line, juice production line, tea drink production line, and more.
Nowadays, all our products are CE certified, and feature superior quality and low prices. As a result, they are highly sought after by customers from many parts of the world, including the United States, Japan, Canada, Russia, Southeast Asia, Middle East, Africa, etc.
In addition, our company is located in Wuxi City, Jiangsu Province, where we are near sea, land and air transportation facilities. This helps to offer you lower international shipping charges.
For further enquiries and for purchase, you are very much welcomed to contact us at Best Crown Packing Machinery Co., Ltd.
Drink Machine, Liquid Filling Machine
Water Tank The water tank is a kind of water treatment equipment. It is made of stainless steel 304 or 316. Its surface is polished, and the roughness is Ra0.4μm
Our water tank is equipped with air respirator, liquid indicator and manhole ...