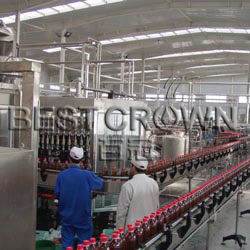 Juice Production Line, Tea Drink Production Line
Our juice, tea drink production line is designed and built for filling juice and tea drink into PET bottles. Besides, it also can be used for filling non-carbonated liquid like water. The production capacity of this juice, tea drink production line ranges from 6000 to 24000 bottles/hour. This beverage production line adopts PLC, man-machine interface and frequency conversion, and is equipped with filling temperature control system and CIP cleaning system. Additionally, the utilization of low vacuum filling method makes this line meet the technical requirement of various kinds of juice and tea drink.

DGC Series Rinser-Filler-Capper Hot Filling Monobloc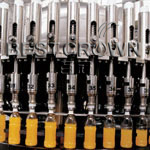 DGC series rinser-filler-capper hot filling monobloc is a high efficient liquid packing machine which is a great combination of bottle washing machine, low vacuum pressure filling machine and capping machine. Empty bottles are fed into the rinsing machine by an air conveyor, then be turned over and washed inside by the nozzles. After dripping, bottles are fed to the filling machine for high quality filling. At last, the capping machine is used for safe and reliable capping of these bottles.
Features
1. In order to meet the related food hygiene requirements, all parts in contact with liquid are manufactured by quality stainless steel, for instance, the filling valves are made of stainless steel 316.
2. Adopting low vacuum pressure filling method, our juice, tea drink production line achieves high filling speed, high filling precision and great filling quality at the same time.
3. Bottles are fed by the air conveyor and transported by clipping the bottle neck and put out by normal conveyor chain. Hence, it is easy and convenient to change bottle size.
4. The use of "PICK, PLACE" capping system ensures reliable capping, the adoption of magnetic torque structure makes it convenient to adjust the torque.
5. This 3-in-1 monobloc effectively shortens the process of washing, filling and capping, which is time saving and helps keep the machine clean and sanitary.
6. Production cost is significantly reduced due to the high efficiency of this machine.
7. This equipment is controlled by frequency conversion motor+PLC+man-machine interface. So production speed, shift production and failure alarm etc. are displayed on the screen for simple operation.

Best Crown has been engaged in the research and manufacture of drinking machinery since 1954. Our juice production line and tea drink production line, which are our popular products, can also be used as pure water production line, mineral water production line or coffee production line. As an experienced juice, tea drink production line manufacturer in China, we also offer beer production line, can production line, and aseptic cold filling line etc. to meet various needs of our customers. Because of their good quality and high efficiency, our products are CE certified and are extensively used by customers from many countries, such as the USA, Canada, Britain, South Africa, Congo, Lebanon, among others.
For more inquires about our beverage production line, please feel free to contact us. We are happy to serve you.
Related Names
Super-clear Drink Produce Line | Beverage Production Line | Middle Temperature Solid Drink Filling Machine | Heating Filling Produce Line
Drink Machine, Liquid Filling Machine
Carbonated Beverage, Beer Production Line DGP series rinser-filler-capper, which perfectly combines bottle rinsing machine, filling machine and capping machine together in one unit, is an high efficient liquid packing machine designed for packing both carbonated drinks and non-carbonated drinks such as juice and water ...