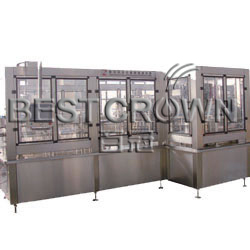 Carbonated Beverage Production Line, Beer Production Line
DGP series rinser-filler-capper, which perfectly combines bottle rinsing machine, filling machine and capping machine together in one unit, is an high efficient liquid packing machine designed for packing both carbonated drinks and non-carbonated drinks such as juice and water.
As a quality conscious carbonated beverage production line and beer production line manufacturer in China, we at Best Crown have been dedicated to producing high quality beverage production lines since our foundation. Through decades of experience and continued efforts of our highly trained staff, now we can provide global customers with superior products at affordable prices. Some of our popular products are juice production lines, tea drink production lines, water filling machines, and blow molding machines. As our products are CE certified, you can feel at ease in using them.


Features
1. All parts in contact with liquid are made out of superior stainless steel or nontoxic material to ensure food safety and hygiene, typically, the filling valves are made of stainless steed 316.
2. The airproof parts are made of heat resistant rubber, thus meeting the high temperature requirement for sterilization.
3. Our carbonated beverage, beer production line adopts PLC system and thus full automatic control is achieved.
4. The frequency conversion control for motor speed makes equipment adjustment more convenient.
5. The adoption of the isobaric filling method and the use of the popular spring filling valve ensure the quality of the drinks.
6. The utilization of advanced magnetic clutch device and adjustable capping torque results in good capping quality.

Please contact us for more information about our beverage production line! We are certain our products will meet and exceed your expectations.
Related Names
Sodas Filling Line | Soft Drink Production Line | Carbonated Drink Produce Line | Beer Filled Beltline
Drink Machine, Liquid Filling Machine
Can Production Line Our FY series easy-open can production line is specially designed for filling non-carbonated drinks such as juice, tea drink, vegetable juice etetc. into three-piece can.
The outside surface of machine and all the parts in contact with the filling material are made of ...