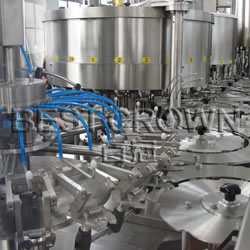 Flesh Fruit Grain Beverage Filling Line
Our flesh fruit grain beverage filling line, integrating the functions of washing, grain filling, fruit juice filling and capping, is one of our most popular beverage production lines. Because it is made from superior SUS304 and its key parts are machined by CNC tools, and consequently, the quality and durability of our flesh fruit grain beverage filling machine is highly ensured. In addition, advanced photoelectric detection technology is utilized to detect each part's operation status.
Features
1. Our flesh fruit grain beverage filling machine has the advantages of no bottle no filling, no bottle no capping, a high degree of automation and simple human-machine operation display screen.
2. Adopting the air feeding device, with clamp hanging the bottle neck, results in high feeding speed and helps prevent the bottles from being deformed.


3. Advanced bottle neck technology is used in washing bottle mouth, which avoids contacting with the thread nipple and is more sanitary. Besides, the utilization of the bottle neck technology in bottle conveying eliminates the need to adjust the height, and you just have to change the shield related with the bottle diameter.
4. Granule filling uses bottle measuring to fix quantity, which ensures the equality of the granule.
5. Advanced technology from France is used in capping. The cap sorter installed in a lower position sends caps in a level position.

Specifications
| | |
| --- | --- |
| Model | DGC24-24-24-8B |
| Capacity bottle(500ml)/hour | 12000 |
| Overall Power (kw) | Total Motor 6kw |
| Overall Size (mm) (LxWxH) | 3500x2100x2650 |
| Weight (kg) | 5000 |
Established in 1954, Best Crown is one of the foremost flesh fruit grain beverage filling line manufacturers in China. Through our decades of experience and continued efforts of our dedicated staff, we are able to offer an extensive line of products, including juice production line, tea drink production line, water filling machine, PET blow molding machine, and more. Featuring great durability and stable performance, our products are CE certified, and are well received by customers from the USA, Canada, Mexico, England, Mongolia, Russia, among other countries.
If you are interested in our products, please contact us directly. We would be happy to serve you.
Related Names
Four Function Pulp Drink Bottle Line | Caro Drink Filling Production Equipment | Multiple Function Juice Flesh Bottling Line | Multi-function Fruit Drink Liquid Filling Machine
Drink Machine, Liquid Filling Machine
Bottle Water High Speed Rinsing Filling Capping Machine The APTDGY15C/APTDGY12C bottle water high speed rinsing filling capping machine is a highly efficient and automatic liquid packaging machine and a perfect combination of rinser, gravity filler and automatic capper. The APTDGY15C 3-in-1 machine has 60 pieces of rinsing clips, 60 pieces of filling valves ...