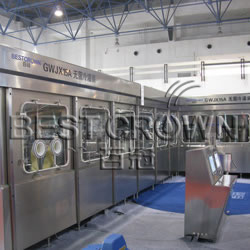 Aseptic Cold Filling Line
Best Crown developed our aseptic cold filling line on basis of the advantages of the similiar foreign products. Our aseptic cold filling line adopts aseptic isolation technology to ensure the asepsis of filling material, packing environment and packaging containers. Reliable sterilizing method is used to sterilize empty bottles and caps. In addition, the utilization of COP and SOP ensures the asepsis of the equipment inside and outside surface and the adoption of aseptic compressed air ensures the positive pressure of filling environment for clean room environment. What's more, CIP cleaning and SIP sterilizing are used to clean and sterilize the material pipeline, which prevents the material sterilized by UHT from being polluted, thus ensuring the asepsis of final products.

The rated measuring of the patented filling valve is performed by the advanced electronic weighing system, thereby greatly increasing the filling precision. Besides, our aseptic cold filling line utilizes PROFIBUS central control technology to achieve the communication and control of stand-alone machines, display the running state online and failure alarm so as to greatly improve the autocontrol standard and reduce the possibility of operator's error.
Features
1. Our aseptic cold filling line is modularly constructed for great flexibility. It combines the dumping machine, rinser, filler and capper into one unit, and the part above the table-board is full closed by shielding can.
2. The rinsing machine can wash the inside and outside of the empty bottle by aseptic water. Dripping is also available.
3. The use of non-contact filling valve effectively prevents second pollution.
4. The imported electronic weighing sensor of filling valve ensures high measuring precision and makes it convenient to adjust product variety.
5. Transmission part of capping plunger chip uses heat shield device to effectively separate the pollution zone and clean zone. 
6. The adoption of magnetic constant torque capping head helps ensure capping quality.
7. Our aseptic cold filling line is equipped with centralized lubrication system.
8.  Automatic control of CIP and SIP operations is realized.
9.  The inside of of pipeline and valve in contact with material meets the related sanitation standard.
As a aseptic cold filling line manufacturer with over 50 years of experience, we at Best Crown can provide customers quality built products at a smart price. In order to ensure each customers find the product their require, we also provide other beverage production line, including water production line, juice production line, tea drink production line etc. Because our products are reliable, durable and economical, they are CE certified and are in great demand by customers from the USA, Canada, Indonesia, Kenya, Egypt, Japan, among other countries.
Please feel free to contact us, if you are interested in any of our drinking machines! We look forward to working with you.
Related Names
Asepsis Cool Fill Produce Line | Sterility Cold-filling Machine | Germ-free Cool-fill Production Line | Sterile Cold Filling and Packaging
Drink Machine, Liquid Filling Machine
Flesh Fruit Grain Beverage Filling Line Because it is made from superior SUS304 and its key parts are machined by CNC tools, and consequently, the quality and durability of our flesh fruit grain beverage filling machine is highly ensured. In addition, advanced photoelectric detection technology is utilized to detect each part's operation ...