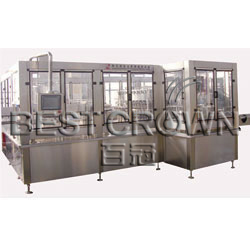 Carbonated Beverage Filling Machine, Beer Filling Machine
DGP Carbonated Beverage, Beer Filling Machine
This series rinser-filler-capper is a versatile liquid packing machine that combines bottle rinser, filler and capper together in one unit. This machine is ideally suited for packing of both carbonated drinks and non-carbonated drinks such as juice and water. 

Features
1. In order to meet the requirement of food hygiene, all parts in contact with liquid are made of stainless steel or nontoxic material, typically, the filling valves are made of stainless steed 316.
2. The airproof parts are made of heat resistant rubber, thereby suiting the process requirement of high temperature for sterilization.
3. Due to the use of PLC system, our carbonated beverage filling machine, beer filling machine realize automatic control of all procedures, from bottle feeding to final packing.
4. The utilization of frequency conversion control enables the users to conveniently adjust the equipment.
5. The isobaric filling type and the popular spring filling valve are used to ensure the product quality.
6. The capping quality is well guaranteed by the advanced magnetic clutch device and adjustable capping torque.
Founded in 1954, we at Best Crown are a carbonated beverage filling machine, beer filling machine manufacturer with over many years of experience. We have put this experience in this field into the creation of a wide range of products, such as water filling machine, juice filling machine, blow molding machine, cap feeder, and so on. Relying on their reliable quality, great durability and economical prices, our drink machinery is very popular with customers from the USA, Mexico, Malaysia,Vietnam, Nigeria, Russia, Egypt, and other countries.
Please feel free to contact us, if you are looking for a high quality beer filling machine or beverage production line.
Related Names
Sodas Filler | Soft Drink Filling Machine | Carbonated Drink Fill Equipment | Beer Filled Machinery
Drink Machine, Liquid Filling Machine
Can Filling Machine The filler is driven by capper which helps keep synchronization between the filler and capper.
The can filling line is easier to assemble, dismantle and clean.
PLC control and frequency conversion are adopted for easy operation and convenient adjustment ...