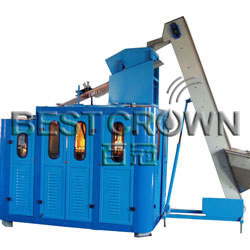 Automatic PET Blow Molding Machine
Our CS series automatic PET blow molding machine is designed and manufactured on the basis of our decades of experience, with production capacity ranging from 800 to 7000B/H. It has the advantages of convenient setting, ergonomic design, high efficiency, easy operation and great flexibility. In addition, our PET blow molding machine can be customized according to the specific requirements of our customers. As an experienced blow molding machine manufacturer in China, we at Best Crown offer customers training and maintenance service to ensure smooth running of our products.
Applications
Our automatic PET blow molding machine is suitable for use as water bottle molding machine, oil bottle moulding machine, juice bottle molding machine, and others.


Features
1. Small Space
Needle-slide block transfer assembly ensures small space of our automatic PET blow moulding machine.
2. Large Clamp Force
Adjustable large clamp force is designed to guarantee the beautiful appearance of parting line of bottles.
3. Enough Air Storage
Unique inner air storing system of the machine ensures the balance between blowing system and air supplying
system for accurate blowing and working action.
4. Accurate and Convenient Changing of Bottle Size
Multi-channel moulding board design, together with specialized mould locating device, results in accurate and flexible blowing.
5. Improved Clustered Heating Device
The improved clustered heating device of our PET blow molding machine evenly heats the bottle preforms. The bottle neck cooling protection line and the heat exchange horizontal line are always at the same level in the the whole blowing process, which not only ensures product quality but also reduces the energy consumption.
During our consistent efforts over the past decades, we at Best Crown are able to provide a wide array of water production line, beverage filling machine and auxiliary equipment of beverage machinery. Some of our popular products are bottled water production line, carbonated beverage filling machine, can production line, and more. These products are reliable, durable, economical and CE certified. Thus, they are well received in many countries, including the USA, Canada, Britain, Russia, Japan, Egypt, South Africa, among others.
Please don't hesitate to contact us for more information. We look forward to working with customers worldwide.
Related Names
Fully Automated PET Bottle Blowing Machine | Beverage Bottle Blower | PET Blowing Molding Equipment | Plastic Drink Bottle Producer
Drink Machine, Liquid Filling Machine
Semi Automatic PET Blow Molding Machine Simulating control of preform heating helps ensure balanced temperature of the preform.
Crank arm type clamping, 17-50T clamping force, micro-adjustment for mould clearance to prevent the mould from offsetting during blowing ...