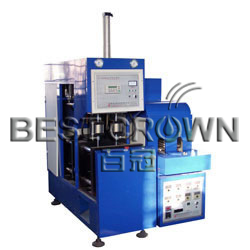 Semi Automatic PET Blow Molding Machine
Over the past 50 years we have established ourselves as a high quality PET blow molding machine manufacturer in the field, which is why our blow moulding machines are the popular choice of customers all over the world. In addition, we also offer a wide range of beverage production lines and beverage filling machines to suit each customer's need. High quality and reasonably-priced, our juice production line, water filling machine and can filling machine are well received in the USA, Canada, Britain, Japan, Russia, among other countries.
If you are in need of any of our products, please feel free to contact us. Our staff is ready to serve you!


Features
1. Simulating control of preform heating helps ensure balanced temperature of the preform.
2. Crank arm type clamping, 17-50T clamping force, micro-adjustment for mould clearance to prevent the mould from offsetting during blowing.
3. The adoption of independent double-stretch and double blowing control system greatly improves the control accuracy, bottle quality and qualification rate.
4. Unique infrared rotary heating amd 8-section individual adjustment, coupled with speed-adjustable rotating preform, ensure high heating efficiency and stability.
Related Names
PET Drink Bottle Blowing Machine | Plastic Beverage Bottle Blower | PET Juice Bottle Blowing Molding Equipment | Polyethylene Terephthalate Bottle Producer
Drink Machine, Liquid Filling Machine
Automatic PET Blow Molding Machine It has the advantages of convenient setting, ergonomic design, high efficiency, easy operation and great flexibility. In addition, our PET blow molding machine can be customized according to the specific requirements of our customers. As an experienced blow molding machine manufacturer in China ...