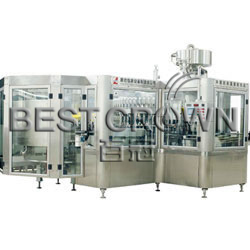 Juice Filling Machine, Tea Drink Filling Machine
Our juice, tea drink filling machine is an automatic liquid packing machine which perfectly combines bottle washing machine, low vacuum pressure filling machine and capping machine. In addition to juice and tea, this filling machine can also be used to fill non-carbonated liquid like water.
Empty bottles are conveyed to the rinsing machine by an air conveyor, then be turned over and washed inside by the nozzles. After dripping, bottles are fed into the filling machine for high quality filling. At last, safe and reliable capping is performed by the capping machine.

Features
1. All parts in contact with liquid are manufactured by superior stainless steel so as to meet the related food hygiene requirements. For example, the filling valves are made of stainless steel 316.
2. The adoption of low vacuum pressure filling method helps our juice, tea drink filling machine accomplish high filling speed, high filling precision and great filling quality.
3. Bottles are conveyed by the air conveyor, transported by clipping the bottle neck and put out by normal conveyor chain. Thus, it is easy to change bottle size.
4. "PICK, PLACE" capping system is used to ensure reliable capping, magnetic torque structure is used for convenient torque adjustment.
5. 3-in-1 monoblock greatly shortens the process of washing, filling and capping, which can effectively reduce product pollution and help keep the machine clean and sanitary.
6. High efficiency of this filling machine results in low production cost.
7. Due to the utilization of frequency conversion motor + PLC + man-machine interface, production speed, shift production and failure alarm etc. can be displayed on the screen for simple operation.
Our juice filling machine and tea filling machine are very versatile, which can also be used as mineral water filling machine and pure water filling machine. In addition to providing juice, tea drink filling machine, we are also offering many other products, such as beer filling machine, bottled water production line, wrapping case packer, and more. As a result of our focus on quality, we have received the ISO9001:2000 certificate, and our products have been CE certified. Today, our products are very popular with customers in the USA, Britain, Canada, Mexico, Japan, Russia, and other countries.
If you have any beverage filling machinery requirements, or any other beverage machinery needs, please contact us directly.
Related Names
Beverage Produce Machine | Super Clean Drink Production Equipment | Middle Temperature Beverage Filling Machinery | Drink Hot Filling Equipment
Drink Machine, Liquid Filling Machine
Carbonated Beverage, Beer Filling Machine This series rinser-filler-capper is a versatile liquid packing machine that combines bottle rinser, filler and capper together in one unit. This machine is ideally suited for packing of both carbonated drinks and non-carbonated drinks such as juice and water ...