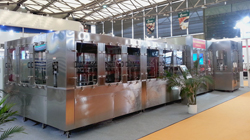 Aseptic Beverage Filling Line
The aseptic beverage filling line is a kind of five-in-one PET bottle filling line. It is designed and manufactured based on aseptic filling technology. The automatic aseptic filling line is suitable for the bottle with the diameter from 55 to 105mm, and height from 186 to 325mm. Applicable for various kinds of beverage and juice, the beverage filling equipment comes with the productivity of 12,000-24,000 bottles (500ml) per hour.

The complete aseptic beverage filling line is composed of air supply system, sterile water preparation system, automatic disinfectant mixing system, bottle cap sterilizing system, aseptic compressed air manufacturing system, packing material sterilizing and filling system, 100% purification system, COP foam cleaning system, SOP sterilization system, material sterilization system, CIP on-line cleaning system, packaging system, automatic inspection system for cap and liquid level, and bottle blowing system. The entire aseptic beverage filling line is fully controlled by computer.
Drink Machine, Liquid Filling Machine
Water Production Line It is made of quality stainless steel, is ideally suited for filling mineral water, purified water or other non-carbonated liquid. It is manufactured using advanced U.S. technology and combines the advantages of Italian and French ...