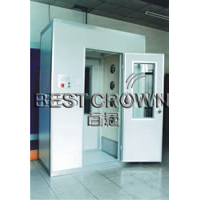 Wind-clearing Room
The wind-clearing room is used to remove dust particles from the clothes of workers by high speed clean airflow. Polluted air can not get into the clean room as a result that the entrance door and exit door of wind-clearing room are not opened at the same time.
Assembled Clean Room
The assembled clean room adopts cleaned light compound metal plates. The plates is made in the factory and assembled on the spot. It has properties of aesthetic appearance, smoothness, flatness, dust proofing, cleanness, and good seal ability, corrosion resistance, water proofing as well as heat insulation.

Functions of Clean Room
The clean room is erected to offer clean environment for manufacturing of products. Its main function is dust proofing. It can remove the existing dust and prevent dust from getting into the room.
Technical Parameters
| | | |
| --- | --- | --- |
| Parameters | Single-people Wind-cleaning Room FL-1 | Double-people Wind-cleaning Room Fl-2 |
| Number of Nozzles | 12 | 24 |
| The Wind Speed at Nozzle Outlet (m/s) | 20±2 | 20±2 |
| Wind-cleaning Time (s) | 0-60 | 0-60 |
| Dimension (mm) | 1700×750×2200 | 1700×1500×2200 |
The air in clean room is filtered by primary air filter, secondary air filter, and high efficiency air filter, so the air quality is quite good. The filtration rate can reach 99.91% for dust particle whose diameter is above 0.3um.
Drink Machine, Liquid Filling Machine
Beverage Production Line Best Crown beverage production line combines the functions of rinsing, filling and capping into one body, making it one of the most popular products on the market today. This production line is designed and manufactured for processing of water, juice, tea, beer, carbonated beverage, flesh fruit grain ...