Auxiliary Equipment of Beverage Machinery
Bottle Washer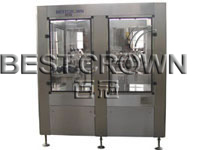 Our carbonated drink mixer is used to wash PET bottles and new glass bottles. Its production capacity is in the range of 6000-20000B/H.
Related Names
Bottle Clean Machine | Bottle Rinser | Bottler Washing Equipment | Cleaning Machine
Carbonated Drink Mixer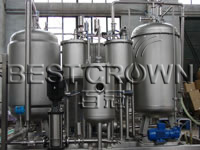 Our carbonated drink mixer is used to produce sodas. It is controlled by programmable controller, and can mix water, sugar syrup and carbon dioxide together. The production capacity is in the range of 3 to 12 T/H.
The carbonated drink mixer also can be used to dilute beer or produce light sparkling wine.
Related Names
Beverage Blender | Beverage Amalgamator | Soda Sugar Mixing Machine | Soda Agitator
Degasser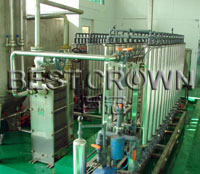 The FTQ series degasser has properties of high working efficiency, easy operation and long service life. It can complete degassing process of fluid in short time. Its degassing rate is above 85%, and is higher than other like products. The production capacity of our degasser is in the range of 3 to 12 T/H.
Our degasser is widely applicable for the fields of food, chemistry, medicine, water treatment and the dilution of highly concentrated beer.
Related Names
Vacuum Machine | Deoxidation Equipment | Air Pump | Air Extractor
Water Treatment System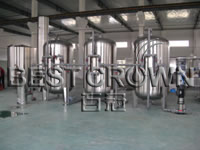 Related Names
Water Management System | Water Cleaning Machine | Treated-water Equipment | Water Disposal Machinery
UHT Sterilizer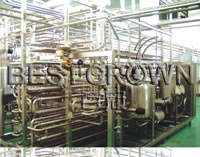 The UHT sterilizer adopts instantaneous ultra-temperature treatment methods to sterilize liquid dairy products, tea drink, juice beverage, and more in 135-137 degrees centigrade. The sterilization time is very short and only last 4 or 5 seconds. This can effectively remain nutrients and taste of processed products. After sterilization, these products will be packaged in germ-free condition.
Our UHT sterilizer has properties of high heat recovery rate, compact structure, and stable temperature control.
Related Names
Sterilization Machine | Sterilizing Installation | Disinfecting Equipment | Ultra High Temperature Disinfector
Blending System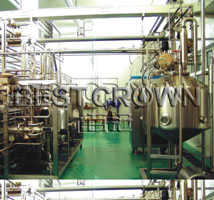 Best Crown Packing Machinery Co., Ltd. is a primary beverage production line manufacturer located in China. Our products mainly include water production line, juice production line, tea drink production line, water filling machine, juice filling machine, tea filling machine, and more. They are widely applicable for water, fruit juice, tea drinks, milk beverage, juice with grains, sodas, protein beverages, energy drinks, and more.
For more information about our beverage machinery, please contact us via Email or contact addresses available on this website. We are competent and are your one stop shopping center for all your machinery needs.
Related Names
Allocation System | Mixing Unit | Deploying System | Blend Project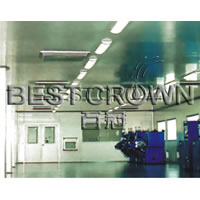 Wind-clearing Room
The wind-clearing room is used to remove dust particles from the clothes of workers by high speed clean airflow. Polluted air can not get into the clean room as a result that the entrance door and exit door of wind-clearing room are not opened at the same time.
Assembled Clean Room
The assembled clean room adopts cleaned light compound metal plates. The plates is made in the factory and assembled on the spot. It has properties of aesthetic appearance, smoothness, flatness, dust proofing, cleanness, and good seal ability, corrosion resistance, water proofing as well as heat insulation.
Functions of Clean Room
The clean room is erected to offer clean environment for manufacturing of products. Its main function is dust proofing. It can remove the existing dust and prevent dust from getting into the room.
Related Names
Air Purge Unit | Air Purification Equipment | Air-purifying System | Air-cleaning Unit