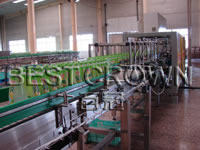 Automatic Wrapping Film Packer
The automatic wrapping film packer is designed for the packaging of drinks, beers, water, dairy products, and more. Its production capacity is in the range of 30 to 50 bags per minute.

Features of Automatic Wrapping Film Packer
1. Our automatic wrapping film packer adopts long-distance analysis and control technology and industrial automation control technology.
2. It is designed with PLC automatic control device and man-machine interface, so our machine is easy to operate.


3. The hot melt parts and control devices are imported from abroad. Thus, our automatic wrapping film packer is reliable in performance.
Technical Parameters of Automatic Wrapping Film Packer
1. Power for heating box: 57.6KW-220V; power for mechanical parts: 28.8KW.
2. Dimensions of the machine: 11850×l215×2150 (mm) (L*W*H).
3. Pressure of compressed air: 0.4-0.7Mpa.
4. Maximum gas consumption: 0.125NM3/min.
5. Maximum width of conveying belt: 600mm
6. Height of conveying belt: 1120-1185mm. (The height is adjustable.)
7. Arrangement pattern for packaging: 3×3, 3×4, 3×6, and 4×6.
8. Machine weight: 4950KG
Drink Machine, Liquid Filling Machine
Beverage Production Line Best Crown beverage production line combines the functions of rinsing, filling and capping into one body, making it one of the most popular products on the market today. This production line is designed and manufactured for processing of water, juice, tea, beer, carbonated beverage, flesh fruit grain ...