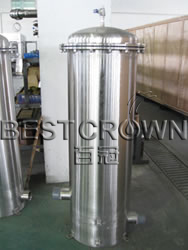 Precision Water Filter
The precision water filter is a kind of water filtration equipment, which also called be called as cartridge filter. It is used to prevent fine grains and other impurities from penetrating into high pressure pump and reverse osmosis membrane module. Its accuracy is in the range of 0.10 to 60μm. The filtration precision of the filter membrane is not affected by feed pressure.
It should be stressed that cartridges must be replaced or cleaned when the differential pressure of precision water filter is above 1.07Mpa.
Best Crown Packing Machinery Co., Ltd. is an experienced precision water filter manufacturer located in China. We mainly produce a variety of tea drink production line, water filling machine, juice filling machine, tea filling machine, and more.

Technical Parameters of Precision Water Filter

| | |
| --- | --- |
| Model | NLZ |
| Pressure Model | Normal Pressure |
| Output | 1-100T |
| Operation Mode | Automatic Operation |
| Materials | Stainless steel 304 or 316 (decided by water quality) |
Model Machine
The model machine is a cartridge filter. Its output is 3M3 per hour. Its cartridge is 750mm long and the filtration precision is 5μm. Seven polypropylene cartridges are required at each time.  
Technical Parameters
| | | | | | | |
| --- | --- | --- | --- | --- | --- | --- |
| Model | Materials | Length of Cartridge | Filtration Precision | Quantity of Cartridge | Output | Dimension (mm) |
| JM-3 | Stainless Steel 304 | 20' | 5um | 7 | 3T/H | Ф235×925×2mm |
All our CE certified products are highly recognized by customers from the United States, Japan, Canada, Russia, Southeast Asia, Middle East, Africa, and more, as a result of high quality and reasonable prices.
For more information about our precision water filters, please feel free to contact us via email or addresses available on this website. We are happy to help you.
Drink Machine, Liquid Filling Machine
Ultrafiltration Water Filter The ultrafiltration water filter is water purification equipment. It is mainly used to remove bacteria, rust, colloidal matter, and other impurities from tap water, and remain trace elements, mineral substances and other substances which are good for humans'health ...