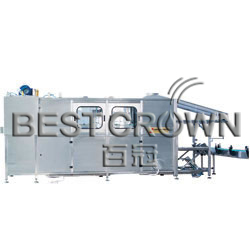 Barreled Water Filling Machine
Our DG5 series barreled water filling machine is a high efficiency machine which is designed on the basis of the advanced U.S. technology. In addition, this machine combines the advantages of Italian and France like products, making it one of the most advanced water filling machines all over the globe.
Main parts of our barreled water filling machine are made of the superior stainless steel, and others are made of non-toxic, durable materials. In addition, the key components of electrical system and pneumatic system are imported products, such as Japanese PLC, French contactor, Germany sensor, SEW reducer, and so on. Hence, the quality and reliability of our machine are highly assured.
Featuring reliable  performance, high automatization, easy operation and simple maintenance, our barreled water filling machine becomes the filling equipment of choice for factories in the water industry.


As a barreled water filling machine manufacturer with many years of experience, Best Crown has been dedicated to the manufacture of high quality and efficient drinking machinery since our very beginning. To better serve our customers, we offer them a complete line of products, including bottle washer, PET blow moulding machine, automatic wrapping film packer, can filling machine, and more. These machines have been CE certified and are widely used by customers from the USA, Canada, Britain, Russia, South Africa, Japan, among other countries. .
Feel free to contact us if you are in need of a high quality, low-priced beverage machinery.
Related Names
Barreled Drinking Water Producer | Draught Potable Water Production Equipment | Barreled Table-water Produce Machine | Draught Drinking Water Maker
Drink Machine, Liquid Filling Machine
Bottled Water Filling Machine An air conveyor first conveys empty bottles to the rinsing machine orderly, then the bottles are turned over and washed inside by the nozzles. After dripping, the bottle are fed into the filling machine automatically for filling liquid at high speed ...