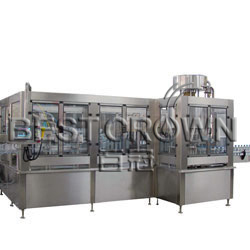 Bottled Water Filling Machine
Our bottled water filling machine is an automatic liquid packing machine that combines bottle rinsing machine, pressure filling machine and capping machine together in one unit. In order to help our customers better understand our products, we give you some information regarding how our bottled water filling machine works. An air conveyor first conveys empty bottles to the rinsing machine orderly, then the bottles are turned over and washed inside by the nozzles. After dripping, the bottle are fed into the filling machine automatically for filling liquid at high speed. At last, the capping machine is used for safe and reliable capping of these bottles.

Features
1. All parts in contact with liquid are manufactured by quality stainless steel, for example, the filling valves are made of stainless steel 316.
2. The use of  pressure type filling system helps ensure high filling speed, precision and quality.
3. Bottles are fed by air conveyor, transported by clapping the bottle neck and put out through conveyor chain, which enable you so change bottle size easily.
4. Our bottled water filling machine uses advanced "PICK, PLACE" capping system with magnetic clutch capping head for reliable capping and convenient magnetic torque  adjustment.
5. Due to the adoption of frequency conversion motor+PLC+MMI, the capacity, shift production and failure alarm could be displayed on the screen for ease of operation. 
6. The bottled water filling machine is equipped with stainless steel shield and safeguard door which is made of organic glass and provided with safety electric switch. The machine will automatically stop when the door is opened. In addition, handle switch and scramming buttons are equipped at the four corners of the machine.
7. Rinsing clips are made of stainless steel so as to avoid bottle neck pollution.
8. A cap stopper is installed on the slide way to stop moving conversed caps. There are detectors on the cap magazine and slide way to detect the cap quantity and position for automatically controlling the speed of cap conveyor and the water filling machine. When there are no cap or few caps on the slide way, the machine will stop to alarm. "No bottle, no cap" is achieved.
9. There are detectors for bottle feeding condition and blocking condition. Hence, when there is  no bottle to feed or the bottles are blocked, the machine will slow down and stop automatically.
As a bottled water filling machine with decades of experience, we at Best Crown also provide flesh fruit grain beverage filling line, automatic depalletizer, wrapping case packer etc., in addition to water filling machine. If you do not find the product you are looking for, we can customize our beverage machinery according to your specific requirements. As a result of our high quality products and dependable service, we have been awarded the ISO9001:2000 certificate.
Thank you for visiting our website. Please don't hesitate to contact us for more information!
Related Names
Bottled Water Filling Equipment | Water Bottling Machine | Mineral Water Producer | Bottled Water Liquid Filling Machinery
Drink Machine, Liquid Filling Machine
Barreled Water Filling Machine Featuring reliable  performance, high automatization, easy operation and simple maintenance, our barreled water filling machine becomes the filling equipment of choice for factories in the water industry.
In addition, the key components of electrical system and pneumatic system are imported product ...